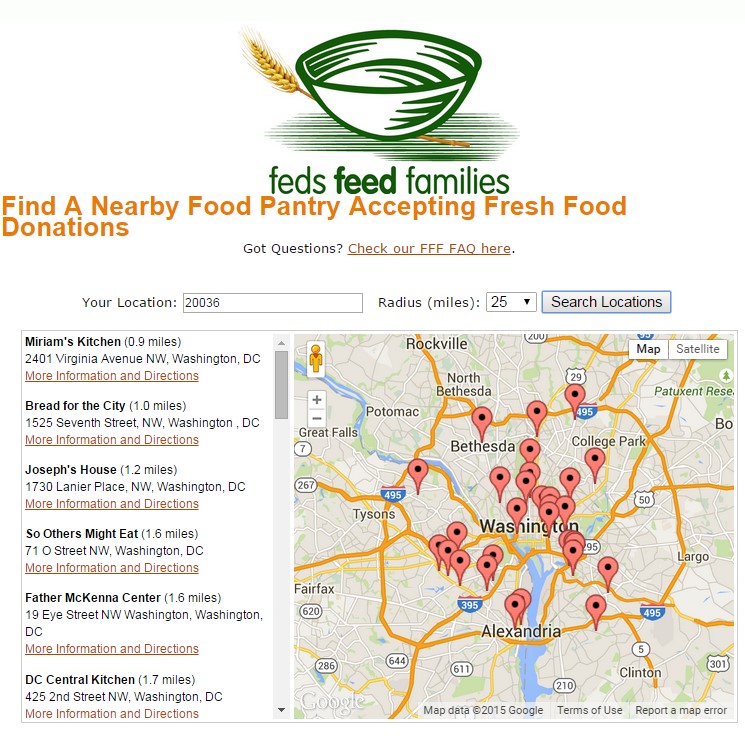 For the first time, federal employees donating food to the Feds Feed Families campaign can also donate excess garden produce from their home/community garden.
Instead of bringing their harvested food to the office, they can take it directly to a local food pantry in their own community.
Thanks to a partnership with AmpleHarvest.org, an innovative non-profit organization, government employees can easily find a food pantry in their own community that is eager for the fresh food by simply visiting
www.AmpleHarvest.org/FFF
.
Food pantries get the fresh food, many for the first time, growers get the satisfaction of knowing that their extra food is not going to be left to rot in the garden, pantry clients get the option of enjoying freshly harvested food, the environment benefits, and more donations can be attributed to the FFF program.
---
Q.
Why haven't gardeners been able to donate their garden produce along with the cans, jars and boxes in the past?
A. As a rule, the food bank network cannot accept short shelf life foods like fruits and vegetables. AmpleHarvest.org solved that by enabling donors to take food directly to a local food pantry. You can learn more about the problem and the AmpleHarvest.org solution in this
6 minute video
.
Q.
Is this the same as gleaning?
A. No. Gleaning programs involve volunteers visiting a farm to help harvest extra food that can then be donated to a regional food bank. AmpleHarvest.org is instead focused on America's 42 million home and community gardeners who have food to donate from their own garden or garden plot. You the gardener harvest the food from your garden, find a nearby food pantry at AmpleHarvest.org and then you take it there yourself. It's all within your neighborhood and you do it when you want - not when a gleaning program is organized.
Q.
How many food pantries are accessible?
A. About 7,000 across all 50 states, with more being added daily.
Q.
I've never heard of AmpleHarvest.org - where did it come from?
A. AmpleHarvest.org is the creation of
CNN Hero
Gary Oppenheimer. They have worked closely with the USDA, White House and EPA for about five years.
Q.
Is there any cost for working with AmpleHarvest.org?
A. No. It is totally free for the gardeners and the food pantries.
Q.
How does the food get to the food pantry?
A. AmpleHarvest.org functions as a search engine helping the grower find a nearby food pantry. Once located, the grower typically takes the food to their pantry directly. In most cases, the nearest food pantry is located within a short driving distance. In some cases, the food pantry may also be able to pick up the food from the grower.
Q.
How do we track what fresh food gardeners have donated as part of FFF?
A. A form will shortly be added to www.AmpleHarvest.org/FFF for the federal employees to document the donation and then provide it to her/his FFF coordinator.
Q.
Where can I find more information for our employees?
A. Visit the AmpleHarvest.org/FFF
Frequently Asked Questions
page.
Q.
Where can I learn more about AmpleHarvest.org?
A. There are three excellent videos available online:
Q.
We need more information - how can I contact AmpleHarvest.org?
A. Email them at
info@AmpleHarvest.org
or if you need to speak to someone, call AMPLE-6-9880 (267-536-9880)
Q.
Can AmpleHarvest.org provide a speaker to one of our meetings?
A. Yes. Visit
www.AmpleHarvest.org/speaker
for more information.